Take two pieces of card board of equal size and lay them side by side with about a fourth of an inch gap in the middle on a piece of contact paper. Make sure the paper is about 1 inch bigger than the cardboard on all sides.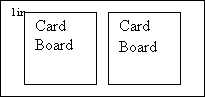 Use a piece of paper, any color you choose, and cut it the size of the two card board pieces plus the center space. Firmly push card board onto the contact paper.
Next firmly secure the piece of paper you cut to the sticky spot in the middle
Cut a diagonal slice in the contact paper at each corner
Fold the contact paper down onto the card board. You now have your book cover
Insert the book pages into the cover. The best way to do this is to staple them. Ask your teacher for help.
Share your book